Neti Pots
Neti pots have been around for well over a hundred years. They are very effective for the prevention and relief of sinus problems, yet few physicians advocate their use and most health shops have never heard of them.
A warm saline solution is used to irrigate the nasal passages. It is a simple and cheap method that quickly brings relief not only for sinus but also for colds, flu and allergies.
Each pot comes with directions for use and a starter supply of natural salt. Cost per pot is $27.
Every pot is crafted by hand with a prayer for good health.
We accept wholesale orders, please contact us for more information.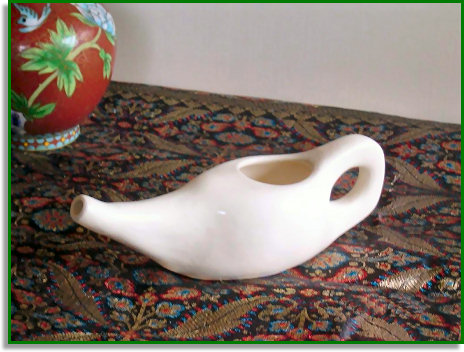 Neti Pot for Sinus Relief
More about the Neti Pot
For years Bill's mother Margaret suffered badly from the effects of sinus problems,especially in the cold, wet, winter months.
None of the usual treatments helped much. The only thing that brought temporary relief was a session of hands on Reiki.
Then I came upon an article in a book about respiratory problems. It described the neti pot.
I had never heard of one and neither had any of the health shops or chemist shops I visited. A neti pot sounded like it would be worth a try so I went on line and did a search. This was quite a few years ago and not much came up. However I eventually got on to an address in USA. And had one sent.
The cost of the pot plus postage proved to be quite considerable but proved to be worth every 'penny'. Margaret tried the pot and the results were great. The pot came with 20 saline solution packets. Margaret found that she was using the pot less and less often and the 20 packets never did get used up.
It seemed that it would be a good idea to have neti pots more readily available to New Zealanders so I decided to design one and make them from clay. Aladdin's lamp was what I had in mind with the design because I think a neti pot is magic.
The pots are porcelain, slip cast in a mould. Only one per day can be made from a mould and there is nearly half an hour of hands on work with each pot before it is ready for the kiln so there never will be large numbers available.
The original pot was made from plastic which can be mass produced and it certainly worked but there is something about the look and feel of a ceramic pot.
Before we ever used the pot we spoke to our GP. His approval and encouragement gave us the confidence to 'go for it'. So if you plan to try one have a word with your GP.
Russell Henry. (Bill's father)